Having A "Favorite" Child Isn't Such A Bad Thing: KSL News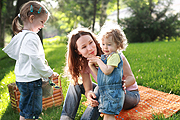 In his new book "The Sibling Effect", Jeffrey Kluger says that whether they want to admit it or not, every parent has a favorite child. I think he's right. A parent may naturally "click" with one child over another or may find one child easier to understand. What's important is that parents to do what they can to work against playing favorites by celebrating each child's strengths, seeking support and feedback from spouse or other adults to manage the internal struggle, and to refrain from comparing your children to each other.
I was recently asked to comment on favoritism in families on KSL TV news. Here's the interview!
Did your parents have a "favorite" child? Do you secretly enjoy one of your own children over the others? Feel free to comment below or join in the conversation about playing favorites on my Facebook page!